Tour And Travel
Best Places to Celebrate Diwali in India
Diwali is one of the world-known festivals celebrated in different manners all over the country. Everyone gets a huge holiday during this period. Now Swastik Holiday offer a List of best places to celebrate Diwali in India that you must visit.
Ayodhya
It is the birthplace of Lord Rama and one of holiest cities in India. Due to connection with Lord Rama it is one of the most famous place to celebrate Diwali in India with utmost grandiose. Ayodhya secured a place in Guinness Book of World Records at 2018 to lighten up more than 300,000 earthen lamps along the banks of Saryu River.
During pandemic there was a restriction for Diwali celebration but now you can book your tour to Ayodhya and celebrate your Diwali at the birthplace of Lord Rama.
Varanasi
Varanasi is one of the holiest town on the banks of the holy river Ganga! It is one of the famous places to celebrate Diwali in India. It attracts a lot of pilgrims & tourist but count increase during Diwali. The bazaars with full of best Diwali products, Diya's floating on the holy river Ganga & Lamps/candles hang on every window looks very attractive.
People come here to involve in Grand Aarti and Pooja that perform during Diwali. It is quite big festival celebrated in Varanasi and should be in your list of places to visit for Diwali.
Jaipur
The Pink City of Jaipur is one of the best place to visit for Diwali celebration in India. It deck up with sparkling lights to illuminate the spirit of Diwali and turns into radiant shades of yellow.
Palaces, forts, houses, buildings, markets, and tourist attractions are decorates with lights during festive season that quite a sight to sore eyes. The bazaars of Jaipur brim with Diwali products & folk music. Now book your tour to Jaipur & celebrate this Diwali.
Udaipur
Udaipur is undoubtedly one of the most beautiful place to visit for Diwali celebration in India. All the streets, stairs leading to the lakes are lit up with Diya's and Local People dress up in their finest cultural suits to welcome the festival of lights.
There are many more things like musical performances and food stalls that make it the most beautiful places to visit in India during Diwali.
Kolkata
The city of Kolkata celebrates Diwali from Navratri. The city has grand way to welcome the festival of lights. They perform kali puja and offers sweets & fishes to the Goddess. Dazzling diyas/ lamps, lanterns and candles are lit up in the streets and many pandals erects with idols of Goddess Kaali. So if you are planning a trip at Diwali then we suggest you to travel to Kolkata.
We are a leading travel agent in Mumbai offers customized tour packages to the travelers from all over the world. For booking contact us on +91-8510901222, or mail us at [email protected].
Swastik Holiday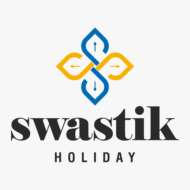 Swastik Holiday is a leading Tour and Travel Agency in Mumbai, India. Our company has specializing in inbound and outbound tour & travel services.