Technology
Best Hand Dryer Brands in India
Hand dryers are one of the most convenient products for washrooms and bathrooms. They are to be installed near the sink so that you wash your hands and dry them at the same place. The dryers can be manual or automatic and can be easily installed at the wall.
They are available in different models and designs. You can choose one from it depending upon the traffic of the place.
Why Choose a Hand Dryer?
Hand dryer dries your hands in just a few seconds. They save the expenses of tissue and towel as you don't need to wipe it. Just put it under the dryer and get the hands dry faster. As it will reduce the use of paper towels it will also reduce the cost of paper towels and dustbin.
It will also help the surrounding look neat and tidy. The dryers are found in different colors and designs from which you can choose the one that perfectly matches with the interior of your place. Pick the right one and mount it on the minimum height so that both kids and adults can use it.
Hand Dryer Brands in India
Listed below are some of the best hand dryer brands in India which are popular among the users a lot.
1. Dolphy Automatic Hand Dryer
Dolphy is one of the renowned brands which provides you a wide range of products. The hand dryers which you get here are embedded with automatic features that makes it the best thing to install in the washroom. They are made from a durable and rust-proof material which is strong and unbreakable. This jet hand dryer is quick and makes low noise.
Features:
It is a fully automatic machine with low energy consumption.
It can be easily mounted on the wall.
The strong air dries your hand quickly.
It is a completely safe and high quality product.
2. Orchids Automatic Hand Dryer
Another one in the list is Orchids hand dryer that is equipped with amazing features. This smart device is easy to use and has impressive fast drying characteristics. It turns on and off automatically as soon as you put your hands under it and take your hands away from it. These dryers take just a few seconds to work.
Features:
It is a user friendly and low noise device.
The device is easy to install, manage and clean.
It is made of a non-corrosive and strong material.
It is perfect for both commercial and non-commercial places.
3. Dyson Jet Hand Dryer
Without using paper or a towel you can dry your hands with the hot air of the dryer. They are a must have device in your bathrooms. The jet hand dryers from Dyson helps your washroom remain cleanser and more hygienic which saves the cost and space in the washroom. Your hands are perfectly dry in 10-15 seconds once you place the hand under it.
Features:
It is one of the most efficient hand dryers for different places.
It's dark grey color and attractive design makes it convenient for every type of interior.
It is a stable, high-speed and low noise hand dryer.
The dryer is perfect for public washrooms, hospitals, offices and malls.
4. Xlerator Hand Dryer
The hand dryer from Xlerator has a smooth and elegant design. There are different model and color options available regarding the device. The dryers are made from ABS material and stainless steel which are strong and long-lasting and make the dry work at its best. They are not so huge and take up less space on the wall.
Features:
It is an automatic wall-mounted hand dryer.
It dries your hands within 10-15 seconds as it has powerful blowers.
They can be easily used by kids and adults without any extra effort.
It is completely hygienic and keeps the surrounding clean.
5. BlueDry Hand Dryer
Hand dryers from BlueDry are available in a lot of color options so that you can choose one which perfectly matches with the interiors and decor of the washroom. They have an impressive and modern design and some also have a nozzle in front that provides a better flow whenever you are using it. The list also includes an automatic jet hand dryer that is more powerful.
Features:
It is an eco-friendly and user friendly device.
It includes a variety of designs and models.
It has a vacuum motor which takes within 12-15 seconds to dry.
It signifies a blue light when it starts.
6. Askon Hand Dryer
Askon also provides a wide range of hand dryers that can be manual or automatic. They are perfect choices for home, offices, heavy-duty industries and malls where a number of people visit daily. They are a smart and energy saving device which runs on electricity and some are also battery operated.
Features:
The smart flow hand dryers from Askon are a well-convenient device.
They are one of the finest quality hand dryers.
They are fully automatic and low noise machines.
All of them usually have a smooth and shimmery texture.
7. Alpine Hand Dryer
Last but not the least in the list is Alpine hand dryer. The most popular model here is the square hemlock hand dryer which is easily installed at the wall. They are equipped with infrared sensors and use less voltage. It has a smooth and sleek surface and is even easy to access. They just take limited space on the wall and don't waste any space.
Features:
There are a number of color options for hand dryers.
They are high-speed and powerful hand dryers.
They are made from different materials such as stainless steel, copper and ABS.
They are perfect for commercial and non-commercial places.
Conclusion
Either you get a hand dryer online or offline you should always rely on the best option. One important thing to look for is that you should choose it as per the traffic of the place where you are going to install it.
For low traffic areas you can pick a small medium volt hand dryer and for high traffic areas the heavy duty jet hand dryers or v blade hand dryers are the best.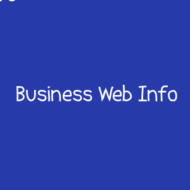 www.businesswebinfo.com is a free guest posting and blogging website with multiple niche which provides content and information related to various topics like Education, Arts etc